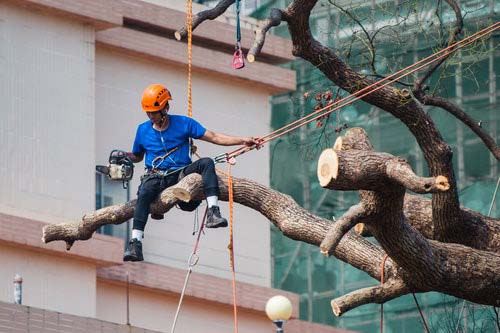 The secret to a good-looking lawn is consistent tree maintenance.
With the right tree maintenance agency, your lawn will be the envy of everyone in town!
In Keller, Texas, you can rely on Keller Tree Services for your tree care needs.

Keller Tree Service Maintenance
With the ecological situation in Texas, tree maintenance services are in demand since each season requires different care. With the right tree maintenance, there is a higher chance that the trees won't be exposed to diseases and other hazards.
Keller Tree Service works to provide a safe and green environment for trees to grow. The right tree maintenance company will ensure that there are minimal damages that arise from the presence of the trees.
Reports are also created to ensure proper tree health management. Our team of arborists has been certified to provide an analysis on each tree with a close examination on the condition, composition, and hazards of the tree.
We make sure that each tree is nourished and maintained to its best state. Our goal is to give our clients a truly satisfying experience that they can be proud of. Our work includes making sure that the tree is healthy and free from rotting and insect infestation. We also make sure that the trees are trimmed to eliminate and potential safety risks.
Find out how we have helped several Keller residents and business owners maintain their yards to its optimal condition.
Residential Tree Services

Commercial Tree Services

Tree Planting

Tree Pruning

Tree Fertilization

Tree Pest Control

Tree Cabling & Bracing

Tree Clean Up

Bush Removal and Clean Up

and other Tree Care services.
Why Choose Keller Tree Services Maintenance?
At Keller Tree Services, our aim is to provide our clients with the best results when it comes to the services that we provide. We use the best practices in the industry to ensure that our clients are fully satisfied with our services. Maintaining one's yard isn't as simple as raking the leaves, which is why you need to work with a team that provides fast and easy service with high-quality results.
When it comes to paying for any service, every client would want the best value for the money. We are here to make sure that each client is fully satisfied with our output. We provide our paying clients with the best value for their money. Our goal is to make sure that the results of our output will last a long time so that you can save on your cost.
Service you can depend on
We aren't the best Tree Maintenance Company in Keller for nothing. Our team is not just the best when it comes to technical outputs. We also make sure that our clients are fully satisfied with our services from start to finish. You would understand high-quality service from the minute that you call us to the minute that we leave your home.
Call Keller Tree Services and find out how your yard can stand out from the rest.