Keller Tree Service: Why you should choose us
We are a highly experienced and local Keller based tree service company. Keller Tree Service has many years of experience serving the community with all their tree care needs. We know there are several other big and locally based tree service companies, but there are a few reasons why we should be at the top of your list.
First, we're a locally run business that understands our community. We take pride in being a part of the Keller, TX community. Our town has been voted one of the top cities to raise a family in Texas and one of the safest places to live in Texas! We've also been named one of the best small cities in America for the past three years. That's no small feat and our team loves being able to contribute to such titles.
Second, we want you to know that our team of experts is one of a kind. Our skilled team of arborists is prepared to tackle any tree situation with only the highest quality tools. The team at Tree Service Keller wears the most current personal protective gear to ensure everyone's safety. Sure, anyone can take down a tree with a truck and a chainsaw, but can they do a good job and remain safe? With Tree Service Keller, you don't have to worry about what kind of tools, safety, or quality of work you'll be getting because we only provide the best!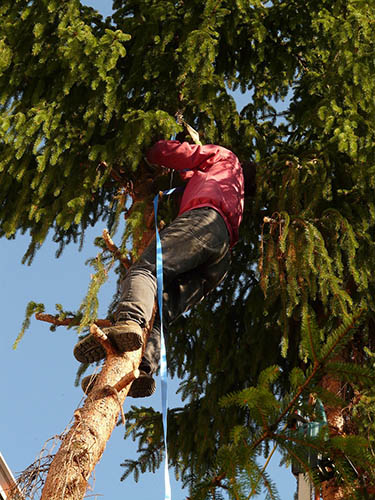 Third, we're a business that succeeds based on the reviews and number of referrals we receive. It just wouldn't be good business to disappoint our customers by doing a bad job or by being rude and unfriendly. Our team is dedicated to providing outstanding work for every tree service they perform. We understand, however, that sometimes things don't always go as planned which may lead to a bad experience. If this is the case, please do not hesitate to let us know and we'll do our best to set things right.
Fourth, we're an open and honest company. We know tree services can get pretty expensive, especially after a severe weather incident. You don't want to have a tree service company overcharge you for something mother nature did, and we don't want to be that company. Our prices are always fair and competitive. One thing many companies will do is recommend and charge you for services you don't actually need. Not with Tree Service Keller. We only recommend services you actually need at prices that won't tap into your kid's college funds. Before you even think about paying for our services, take advantage of our FREE estimate. We'll tell you what you need and what you don't need to fully satisfy all your tree service needs. We know that no two tree service jobs are the same and, once again, it would simply be bad business to charge a one-size-fits-all price for completely different types of services needed.
Finally, we're always looking for ways to give back to our community. We're a small business so we know how tough it is to spread the word, so if you or any other local businesses have any ideas to help us both, don't hesitate to call us! We look forward to hearing from you and can't wait to get started on your next tree service job!