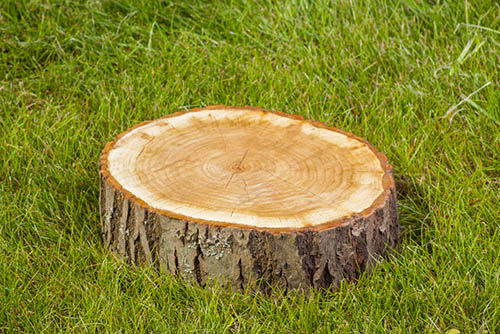 Best Stump Grinding in Keller
As the kids say today, we stay on that grind (stump grinding, that is). Along with our expert tree removal services, we have stump grinding and removal services as well. It's no surprise that any fallen or cut down tree will have a stump left in its place. While some people like the aesthetics an old stump can offer, left alone, a stump can cause numerous issues.
1. Plant diseases
Molds and fungus love a low-sitting stump to attach to, which can cause serious health risks to you and your family (kids and pets included!)
2. Termites
While eating the stump sounds like a good thing, termites are not that picky and may move on to eat your house.
3. Trip hazards
What happens when your kids are out in the yard playing and you hear a blood-curdling scream? Sure enough, your precious baby has tripped over that pesky stump and sprained their ankle.
Types of stump removal:

Our expert team has the right equipment to tackle any sized stubborn stump.
1. Just stump removal
Tree Service Keller can simply just remove the stump by using a stump chipper or grinder to chop the stump into smaller and easier to remove pieces.
2. Stump and root system removal
Like the stump removal, we'll remove the exposed part of the stump as well as use larger equipment to remove the underlying root system. This task may require us to dig and cable the stump to make it easier to pull out with a tractor or truck.
3. Just stump grinding
Perhaps the easiest and most common stump-related service we offer is simply stump grinding. All we do is grind the stump until it is level with the rest of your yard and smooth it over. This method requires the least amount of yard disruption because all we need to do is make it level enough for a lawnmower to go over it without contact and erase any tripping hazards.
Things to avoid:
While doing it yourself seems like the cheapest and easiest way to remove a stump, there are actually a lot of things you should avoid when removing a stump.
1.Digging it up yourself
Often times, people don't have the proper equipment and will try to dig up the stump with a regular shovel. This can cause serious back injuries and countless hours of pain. It's best to leave the hard work to professionals with proper equipment.
2. Burning the stump
This is a common misconception that many people use when trying to remove a stump themselves. Not only is this incredibly dangerous, it has the potential to cause large and uncontrollable fires (especially in the dry Texas heat).
3. Using slow-working stump removers
Out of all three DIY things to avoid when removing a stump, stump removers are perhaps the most dangerous. They rely on slow-acting chemicals that are incredibly dangerous to people and animals. Since they take a considerable amount of time to produce results, the chemical-related health risks are hard to keep at bay, especially with curious kids and doggies.
In the end, it's best to leave the hard stuff to professionals who know how to avoid any accidents. What's more important? You and your family's safety, or saving a little money to do it yourself?