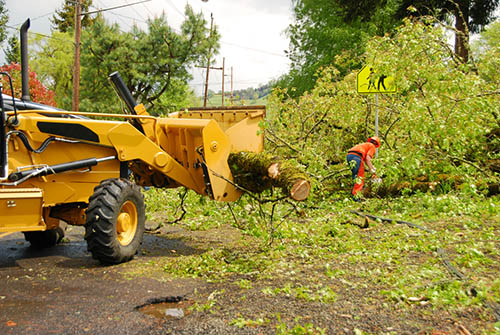 Keller TX Storm Cleanup
Unpredictable Texas storms are a hassle that often causes large branches or even whole trees to fall down. No one wants to deal with that alone and you shouldn't have to. With Tree Service Keller on your team, all of your worries will wash away with the passing storm.
Safety is our top priority
Safety is one of our top priorities (besides trees, of course) and we know how dangerous fallen trees and branches can be to you and your family. When storms strike and the resulting damage sees the light of day, it's crucial to assess not only the damage but also the safety of your surrounding area. It's not always obvious which trees are about to fall so it's best to remove yourself from the damaged areas and call whoever you need to. Keep us in mind when dialing after a storm, we've got you covered.
Consider your homeowner's insurance and its coverage on damage from storms (hail, wind damage, tornados, etc.). Our team is happy to work with your insurance to figure out what's best for you and your family after a storm. What's most important to us is you and your family's safety. Once you're safe, we'll come in and take care of the many safety hazards trees can pose.
Tree Threats That We Should Avoid
Surprisingly, while trees provide us with a multitude of benefits, they can also pose some of the greatest threats to us.
Damage to our homes
Trees with large root systems can cause foundational issues if they are planted too close to a house. Along with that, trees that are too close to our homes have a greater chance of falling onto our houses during severe weather.
2. Damage to other plants
While the shade trees provide is beneficial for several reasons, too much of a good thing is never a good thing. Again, if a tree or part of a tree falls, other plants could be crushed and may not grow back.
3. Water drainage issues
With heavy rainfall, sometimes trees can prevent the proper evaporation of stormwater which can drown other plants.
4. Damage to concrete areas
Like water drainage issues and damage to homes, trees can have extensive root systems that creep beneath patios, driveways, and sidewalks. The roots can disrupt and crack the concrete and heavy rainfall can cause flooding in uneven areas.
While we can't take away all of your storm or severe weather-related problems, we can at least help clear some of it off your lawn, house, and cars. Our team has the necessary skills and equipment for storm cleanup and hauling away large pieces of trees and other wreckage.